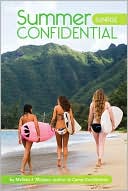 Melissa J. Morgan wrote this middle-grade trilogy about a professional surfer girl turned camp counselor-in-training. The main character Cassie decides to take a break from the stresses of professional surfing and joins her cousin at Camp Ohana, a water sports camp in Hawaii. Sixteen-year-old Cassie has been surfing as a pro since she was twelve and never experienced the normal fun of summers and camp, including boys! But there is a reason Cassie wants so desperately to take a break from the pro circuit and hide out at Camp Ohana. She has lost her confidence and isn't sure she wants to keep surfing.
The usual camp characters can be found here: the "mean" girl Danica who has been coming to the camp forever and rules the roost (with her two groupie friends Sierra and Sasha), cute, sweet irresistable Micah, Ben the obnoxious hottie, Charlie the loveable geek, Andi the cute friendly girl, etc. And because these are teenagers, crushes and emotional outbursts ensue. Cassie tries to learn the ropes of being a normal teenager and deal with having her first boyfriend while trying to figure out her surfing future.
Thank you to Samantha from Penguin Young Readers who sent this series to me for review. I breezed through it reading one book each day the last couple days. But really it only took me an hour, maybe two to speed through each of these.
This is the perfect series for the middle school set looking for a beach/vacation read. VERY fluffy and not deep at all. Very Sweet Valley High. I wouldn't necessarily recommend this series for adults looking for a fun series to read. But I think there is definitely an audience for this. Of note, this is VERY PG-rated. Only kissing among the teenagers and barely any of that. Also, no bad language that I can recall. Might also be good for reluctant female readers who just want something very light about relationships. Morgan also writes a young adult series called Camp Confidential that I'll be reviewing in the near future.