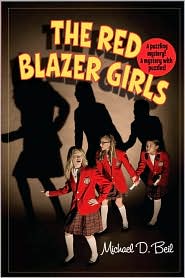 I came across this delightful book at
Ms. Yingling Reads
. After reading her review, I quickly added it to my wishlist and then in a book-buying splurge, I purchased a copy! And I'm really glad I did for many reasons. One: it appears The Red Blazer Girls: The Ring of Rocamadour is going to be a first in a series (yay!); two: the story involves some museum/art info which I always like; and three: it also includes many references to literature and pop culture (Monty Python!).
The story starts off with Sophie St. Pierre seeing the face of an old woman in a church window across from the classroom she is sitting in. She and her two BFFs, Margaret and Rebecca decide to investigate and end up discovering an elderly lady that lives next door to their Catholic school. The old lady, Ms. Harriman enjoys the girls' company and enlists their help in locating a birthday present her father hid for Ms. Harriman's daughter 20 years earlier. The girls begin a treasure hunt full of fun (but relatively easy) puzzles and they are not even sure the clues or the "treasure" will still be located where Mr. Harriman hid it all those years ago. The girls embark on an adventure where they encounter clues not just in literature, but art, math, architecture, classics, and more!
I really enjoyed the characters in this book. Margaret is the brainiac, Rebecca is the artist, and Sophie is a math whiz. They each seem to have their special talents. The girls are 12 years old and act like pretty typical middle school kids. Each of the characters in the book have their own family dynamic going on and I felt like we got to know them pretty well. None of the characters seemed flat. Some of the explanation for the answers to the clues got a little wordy...especially the math explanation. I'm not sure children reading this book would be thrilled to be reading an explanation of an alegbra equation or graphing algebra answers (UGH!). But please don't let that deter you from this fun middle-grade mystery. I liked the wide range of topics covered and feel like there is something for everyone in this book. This will be sure to please fans of Nancy Drew! And I'm excited to hear there will be more in this series in the future!