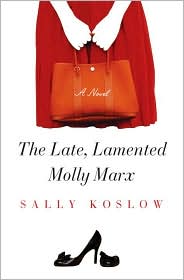 I received an ARC of The Late, Lamented Molly Marx from Katie at Ballantine Books (Thanks Katie!). I thought it sounded like a light enjoyable read. That it was!
The book opens with Molly's funeral. She is a 35-year-old wife and mother who is unexpectedly killed while out riding her bike one afternoon. Molly's story is told mostly from her point of view as a spirit in the Duration. The Afterlife is never referred to as Heaven or anything else other than the Duration. And Molly has Bob as a spiritual guide in the Afterlife. There are a few rules...she can only listen to one person's thoughts at a time and she can flit about seamlessly through time and location.
There are two things going on in this book. First, Molly does not remember what happened to her so she tries to solve the "mystery" of her death. Some people think fowl play was involved, others wonder if she committed suicide. Molly's past is the second storyline of the book. We move back and forth through time through Molly's memories juxtaposed by what's happening in the present. The book is well-written in that the story is seamless and you are never confused about what time you are in or what is happening.
Koslow's use of Molly's "ghost" is a clever way for the reader to see what all the characters are up to and flit in and out of their lives as they move on from Molly's death. The book is well-written in that the story is seamless and you are never confused about what time you are in or what is happening. Koslow throws in a few humorous quotes as well. In one toward the beginning, Molly is talking about the "gated community" her husband chose to bury her in and its location 6 blocks from IKEA. She says, "A shame I don't need any furniture because I have plenty of time to decipher the directions." (pg. 15**). (chuckle, chuckle)
I enjoyed the lightness of this book, it was easy to read. There were a few things that bothered me. The state of Molly's marriage is a large chunk of the book and it bothers me how she entered into her marriage with out really considering what she was doing and what a jerk her husband was. It bothered me that Molly chose to stay in her marriage to begin with (catching the groom getting it on with someone else DURING his wedding reception should have been her first clue). I guess I just would have liked Molly to be a bit stronger female character. But it all works for the book. I saw Bob as sort of a superfluous character. I guess he provided someone for Molly to actually talk to in the Duration, but he wasn't in the book enough to really make the character worthwhile. I did like the way it ended and even though it was tied with a neat little bow, it's exactly how I would have liked it to end. If you're looking for some lighter reading for vacation or the beach this might do the trick!
You can grab a copy for yourself when it is released May 19, 2009!
**I know I probably shouldn't quote an ARC copy, but I just had to share one of the humorous lines with you. :-)