We're featuring books about cats today! My girls, especially my five year old, are very into kitties right now. Oh, does she want a real kitty. She even told me she was saving her money up to buy a cat of her own and that she was going to take care of it, feed it, clean the cat box, AND vacuum. Um, sure she will. But it's pretty cute nonetheless.
Bad Kitty by Nick Bruel is a very cute book about a kitty who is mad at his owners for running out of food for him. He goes through the house wreaking havoc, but not just any havoc, alphabetical havoc. Bruel cleverly creates several alphabetical lists to go with this story to help reinforce learning letters. At least four repetitions of different lists throughout the book. The kitty's mother comes home from the store and lists all the yummy treats she's purchased for kitty. And after seeing his owner buy him yummy food, the kitty sets out to be a good kitty and reverse much of his naughtiness from earlier in the day. This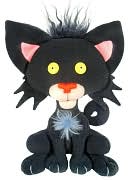 is a really cute book and I highly recommend it. Bruel also has a sequel called Poor Puppy which also incorporates numbers along with the alphabet. And if you have a slightly older child who loved Bad Kitty, there is a very short novel with TONS of illustrations (probably more illustrations than words) called Bad Kitty Gets a Bath. And look at the fun stuffed version of bad kitty you can get from Barnes and Noble!
Splat the Cat by Rob Scotton features an adorable cat named Splat who is nervous about going to school. But once he's there he learns all sorts of new things including maybe cats aren't supposed to be best friends with a mouse (like he is). Splat brought his mouse friend to school and the mouse ends up getting chased by all the cats. But in the end, when the snack cupboard lock is jammed, the mouse saves the day by unlocking it. The cats learn that maybe mice aren't too bad after all and Splat learns he likes school and is excited to go the next day. Scotton has a second entry in the series called Love, Splat about a valentine Splat wants to give a girl at school. While the text is cute, the illustrations really make these books! Love them!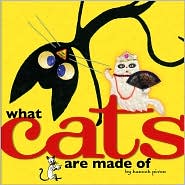 We got this book from the library. I'm not sure where I heard about it (I'm pretty sure it was one of the awesome book blogs out there that I read). Each page of this book has a different type of cat on it with some information about that type. But the best thing about this book is the illustrations! Each picture of a kitty is made out of other objects or materials in the form of a collage. For example, one cat is made out of circuit board parts, a computer mouse, and office supplies. Very creative! And fun for the kids to look for objects that they are familiar with.
Random comment: Why do all the kids books about cats feature black and white kitties? There's If You Give a Cat a Cupcake too. Did someone do market research and somehow discover that children like books with black and white cats best? I know for babies and toddlers black and white are more eye-catching and stimulating....anyhoo, just randomness running through my head this morning.
************
For some of our Picture Book Thursday posts, I have to think hard to come up with 2-4 books on the topic. Not so with cats! We have two cats, and Lilah adores them. She also adores books about cats. So narrowing it down was the problem this week!
CAT by Matthew Van Fleet
The definitive "cat" book, CAT by Matthew Van Fleet employs adorable photos with interactive pull-tabs, textured inserts, and flaps along with clever, simple rhymes to introduce children to a range of cats with different characteristics. Lilah loves pushing the tab to make the grey kitty dip his paw into the goldfish bowl. The flaps and pull-tabs are at the cutting edge of sturdiness (and as a parent of a toddler who has stayed up late to superglue ripped-off tabs, I consider myself an expert), guaranteeing hours and hours of fun. Lilah loves the photographs of different cats, and the rhymes are fun to read aloud. The very last spread includes the name and breed of all the "stars" of the book, plus a surprise final flap to finish the rhyme scheme. We love Van Fleet's supremely art-directed books, which include the amazing Alphabet, Fuzzy Yellow Ducklings, Monday the Bullfrog, and DOG (which we don't have yet).
Skippyjon Jones by Judy Schachner
We were introduced to Skippyjon Jones, an imaginative Siamese kitty boy with a penchant for trouble and a flair for Spanish, in the simple board books about colors, shapes, and counting, and Lilah loves him. So when we saw a jumbo hardback at Barnes and Noble in the bargain book section, we grabbed it. This book is bigger than Lilah! She thinks its size is lots of fun, and she sits through the whole, involved, tongue-twisting story. I have to admit to some conflicted feelings about Skippyjon's stories. He pretends to be a Chihuahua and goes on adventures. In Skippyjon Jones, the first book, he heads to Old Mexico and uses a sort of Spanglish to help out the bean-eating dogs who need help from El Bumblebeeto, a giant bumblebee who steals their beans. I have to be honest that if Schachner's last name were Rodriguez, I would just think the story is funny and encourages imagination and an awareness of Spanish (there are some contextual "lessons" in Spanish), so I think I'm just being overly PC. When I don't obsess over the PC-ness of the storyline, it's great fun to read, and Lilah loves it.
Have You Seen My Cat? by Eric Carle
This is a simple early reader. Lilah already "reads" it to herself and her stuffed animals, because most of the book is: "Have you seen my cat?" and "That is not my cat!" as a child searches for his pet. He is directed by people of various cultures to cats who turn out to be pumas, jaguars, tigers, etc. until he finds his cat. Matt hates reading this one because it's the same words over and over, but Lilah loves it, and her reaction when she yells "No! That's a cheetah!" is too cute. Carle's trademark modern-art illustrations are colorful and arresting, and the simple words are great for a child learning to read.