Our theme this week is...Valentine's Day!
We love Little Critter, Mercer Mayer's vaguely porcupine-like little guy and his animal friends. The Valentine's Day installment is lots of fun--our favorite is Little Critter decorating the classroom, strewing hearts and streamers all over the place. At the end of the story, he gives a special valentine to his special valentine - Mom. It's a sweet story on extra-sturdy pages with flaps to lift. Lilah loves this one, and I enjoy them, too.
Maisy, a cute mouse drawn by Lucy Cousins, doesn't have the most exciting storylines, but Lilah really loves these because of the animal drawings, but also because of...stickers! There are stickers to place on each page to complete each scene, and the simple story is made extra fun with the interactivity.
Franklin was new to us, but we really like him. Paulette Bourgeois writes and Brenda Clark illustrates. Franklin loses all his valentines on the way to the party, and feels very bad when he opens all of his valentines, but his friends tell him it doesn't matter. It's sweet, and Lilah loves the animals!
The Biggest Valentine by Steven Kroll and Jeni Bassett is the story of two adorable mice who are best friends. They decide to team up and make a valentine together, but they fight over the best way to do it. They separate, but neither can make a valentine he's happy with, so they come back together to make the perfect, the BIGGEST valentine ever.
-------------------------------------------------------------------------

We are excited about Valentine's Day around here. My girls worked on their class valentines last night and are counting down to Saturday. Funny thing is that we don't really do much for Valentine's day and in fact, last year I completely forgot to give the girls' the books I got them until weeks later when I came across them. But they liked them anyway, even if Valentine's was over.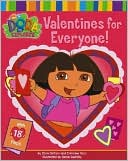 They each got a Dora lift-a-flap book:
Valentine's for Everyone
and
Dora's Valentine
Adventure
. Both contain flaps to open. Both are board books with sturdy pages. The heart-shaped one actually contains a bit more of a storyline and a few more flaps I think. Valentine's for Everyone is about Dora and Boots delivering a valentine to Dora's grandma. I would suggest Valentine's for Everyone for a younger child (age 2-3) interested in Dora, and Dora's Valentine Adventure for more preschool age (age 3-4). My girls enjoy both books.
We picked out
Mouse's First Valentine
by Lauren Thompson at the library a few weeks ago. Our library (do all libraries do this?) has a holiday section in the children's area so that all the picture and chapter books relating to a holiday are put in one place. It's great! I usually go the month before a holiday and raid the section. :-) We thought Mouse's First Valentine was particularly cute. Mouse follows his sister around the house one night watching her collect ribbon, lace, and paper. She works very hard to make a valentine for someone and Mouse wonders who it is for. This is a very sweet book with fun illustrations. It is also available in a board book. Thompson also has other books in the Mouse series (Mouse's First Day of School, Mouse's First Snow, Mouse's First Christmas, etc). AND I just learned by doing a search for her other books that she is the author of the Little Quack books too, which we love! I never put two and two together that they were one in the same.

Lilly's Chocolate Heart
by Kevin Henkes is another Valentine (or actually, a year-round) favorite of ours. We are fans of many Henkes books and own the
little box of treats
set. Each small book in the set centers around a holiday treat. They are short and sweet and our kids love all of them. They are only a few pages long. In Lilly's Chocolate Heart, Lilly wants to save her chocolate heart and searches for the perfect place to keep it until she decides the best place for it is in her mouth! Henkes has written and illustrated many picture books and a few novels. He hails from Racine, Wisconsin which is where my husband grew up. We love to support local authors so I just had to throw this one into the pile today.