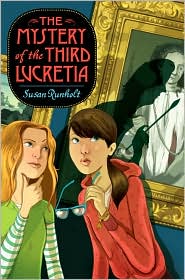 Oh dear, I'm sorry to say, but I hope you make it to the bottom of this post. I'm about to go on and on!
I picked this book up because it was sitting on the "New Arrivals" shelf in the children's area of the Chanhassen library. How could I pass it up? It was a mystery, it was about art theft and the art involved was from the Baroque period (17th century). AND, I was familiar with the art topic of
Lucretia
! Seriously, I couldn't get more excited. Plus, I could use this as my first book for the
Art History Reading Challenge
.
I'll try not to go all art historian on you (I do have to go on a little bit though) and actually talk about the book in a minute. My focus for my art history major in college was Baroque art and I spent half my time studying the female artist
Artemisia Gentileschi
. I remembered one of the papers I wrote on her included her
Lucretia
so I just had to go Google the painting and look at it again before writing this. And because I'm a big dork and kept all my art history info from college, I even FOUND my paper and reread that part. You know what really TRULY amazes me? How easy do kids have it these days with the internet? I mean, yes, the internet existed when I was in school. But, not like today. I had to scour academic search engines to find information in journal articles and books on the topics I studied. There was no wikipedia. And there certainly was not an entire website devoted to
Artemisia
! I am feeling old and amazed by the information so readily available at our fingertips. Not to mention, how easy it would have been to study for an art history test if I could just bring up the images on my computer to look at! Instead of going to look at slides in the basement of the art building. Okay, I really will get to a BOOK review here. I just had to share why this book was calling to me to read it.
Susan Runholt's book is a young adult mystery starring fourteen year old Kari and her best friend Lucas. The girls stumble across an art mystery when they encounter the same man in a gallery in the Minneapolis Institute of Art and The National Gallery in Britain. He appears to be copying famous Rembrandt paintings and the girls are intrigued to find out why. They start to spy on him and come up with clever ways of staying covert. After a third painting of Rembrandt's
Lucretia
is "found" and donated to the Rijksmuseum, Kari's mother realizes the girls really were on to something and attempts to help catch the forger. Danger, kidnapping and more ensue.
The book is written in first person from Kari's point of view so we are treated to the inner workings a fourteen-year-old's head. While many children's and young adult books do not have the parents present, Runholt has very cleverly involved Kari's mother to a point, but also provides good excuses for the mother to be busy in order for the girls to explore on their own. I think both mother and daughter are portrayed well here. From a younger person's point of view, the mom seems rather cool and from a mother's perspective the mom does react somewhat realistically to the situation at hand.
My only gripe would be that sometimes I felt like the writer let a little of her own voice into the story instead of sticking with Kari's voice. Some of Kari's thoughts and conclusions seemed a little mature for a fourteen-year old. And then again, other times, the voice seemed younger than fourteen to me. Actually, Kari's voice seemed to mature over the course of the book. And maybe that's what the author was going for since clearly being involved in a mystery, kidnapping and highly public art theft can mature a person.
Overall, this was a very fun adventure. I loved the art history references. I love the focus of the Lucretia story. Runholt has found a fantastic topic to write about for young women. Her message in the book is empowering and wonderful from the lessons both Kari and Lucas learn, to the portrayal of Lucas' powerful grandmother ,and the evolution of Lucas' mother from dizty socialite to devoted philanthropist. I so look forward to my daughters reading this book in the future. And I think this book would be a perfect addition to a mother/daughter book club list. It would be great to hear the reaction of both mothers and daughters to this book and their discussion of the mother/daughter relationships. This is a very PG-rated book. Where there might be swearing the girls use the word "Meep". Even though its rated as young adult, other than the dangerous situations the girls get into, this book would be fine for younger than that. I'd say 10 and up.
Susan Runholt is a first-time author and the runner-up of the 2005 Debut Dagger Award by the Crime Writer's Association of Great Britain. This was instrumental in getting this book published. Runholt also lives a stone's throw away from me in St. Paul. She leaves the book opened for more mysteries from Kari and Lucas. In visiting the
author's website
, I see her next book
Rescuing Seneca Crane
will be published this August! And she has already been asked to write a third book in the series.
I also came across the author's feelings about choosing her topic for the book and I just have to share them. "Mostly, THE MYSTERY OF THE THIRD LUCRETIA is meant to be just a fun book for kids--an exciting mystery that young readers can enjoy. But one of the things I was trying to do with the book was to write about ordinary kids who feel at home in museums and who respond very naturally and directly to art, the way my daughter did when she was their age. I really wanted to break down the barrier that somehow divides too many people, especially people in this country, from the beauty and power of art." Go Susan!!