We have a couple more book tour stops coming up on Picture Book Thursday so Allison and I decided to do Christmas books this week. There are so many great Christmas/holiday books out there. It's really hard to narrow it down.

Let's start with Merry Christmas, Curious George. In this installment, George and the man with the yellow hat go in search of a Christmas tree. George becomes curious about a large tree on a truck and winds up taking a ride to the hospital where the tree is being delivered. My girls and I enjoy all the Curious George books and this one is no exception. My daughter actually asked Santa for this last year. I was so thrilled that she actually asked for a book (well, she also asked for an Ariel Barbie too). There were no books on her list this year for Santa, but he's bringing her some anyway. ;-)

We received this next book as a gift a couple years ago and its so fun! Santa's Coming to Town by Tish Rabe. The book comes with an attached reindeer finger puppet. It has a magnet in the nose. On each page, the child is supposed to find certain things (like all the elves with striped hats) and the reindeer "sticks" to the correct answers. This is a nice sturdy board book and part of the The Nose Knows series of books. Also in the series, a Halloween version called Spooky Night and another called Puppy Love.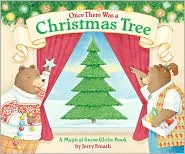 The last book: Once There Was a Christmas Tree is a very sweet tale. Mr. and Mrs. Bear get a very large Christmas tree. It doesn't fit into their house so they cut off the top to give to Mr. Fox and his son, saying to them, "We took our tree and made it two. One half for us, one half for you." This line is repeated through the book as one tree is shared among many animals getting smaller and smaller. I really like the giving and sharing storyline in this Jerry Smath book.
****************
I picked up McDuff's Christmas by Rosemary Wells at the Highland Games this year (if it's remotely Scottish, SOMEONE sells it in a booth there!). It was our first McDuff book, and it won't be the last. The sweet little white terrier saves Christmas when the family (and Santa) are snowed in. Susan Jeffers illustrates in a lovely, yet realistic style, and both text and illustrations are evocative of Christmas in a simpler time. The text is simple, and Lilah will listen to the whole thing.
The Peek-a-Boo books by Marie Torres Cimarusti are really cute, simple text with lift-the-flap surprises and bright, appealing illustrations by Stephanie Peterson. This Christmas version is really cute, with the flaps revealing an elf who asks "Naughty or Nice?", a toy train, a snowman, and more. The last page has several small flaps, each concealing a previous page's surprise, with a hint for each--in the shape of a gingerbread house! This is a cute one for younger children.
I've mentioned the Bear series by Karma Wilson and Jane Chapman before, but Bear Stays Up For Christmas is really sweet. Bear's friends set out to keep him awake to celebrate Christmas, but they fall asleep! Bear happily prepares their presents and treats before his friends wake up to give him a truly thoughtful gift. Santa makes a cameo, but the real star is the friendship between Bear & Co. If you've read any of the Bear books, the rhyme scheme and illustration style will be familiar and welcome.
Some of Lilah's very first books were by Sandra Boynton, and she remains a favorite for all three of us. This is an oversized board books with seven one-page rhyming stories accessed by lifting the tabs on the side to choose one. My personal favorite is A Really Big Box, about a child looking for a really big box for a gift he wants to give "so the hippo's ears don't squish." The first six poems are delightful holiday silliness, and the seventh is a sweet Christmas lullaby, complete with sheet music.